FOR PATIENTS
Getting to know KANJINTI®
There is treatment for your HER2 positive (HER2+) breast OR GASTRIC cancer—and it is called KANJINTI®1
KANJINTI® IS:
Approved by the FDA (Food and Drug Administration) for HER2+ breast and gastric cancer. KANJINTI® is also known by its chemical name, trastuzumab-anns (trast-OO-zoo-mab).1
A biologic, which is a drug made from a living cell. Biologic medicines are used to treat many conditions.1,2
KANJINTI® WORKS WITH YOUR BODY'S IMMUNE SYSTEM TO Help FIGHT CANCER CELLS3
1
KANJINTI® attaches to HER2 receptors on cells.3
NORMAL CELL
Normal cells have some HER2 receptors.4
2
THIS PREVENTS cancer cells from growing and multiplying.3,*
* Because normal cells have HER2 receptors, KANJINTI® can also prevent their growth and cause serious side effects.
HER2+ CANCER CELL
HER2+ cancer cells have many more
HER2 receptors than normal cells.4
3
the cancer cell is
then destroyed by the body's defenses.3
HER2+ CANCER CELL
KANJINTI®

®
---
WhY KANJINTI®?
PROVEN TO BE AS EFFECTIVE AS HERCEPTIN®
KANJINTI® is a biosimilar to the cancer drug Herceptin® and is FDA-approved for the same uses. KANJINTI® has been tested worldwide and has been proven to have similar side effects as Herceptin®.1,5
CAN I BE GIVEN KANJINTI® IF I'VE ALREADY STARTED WITH HERCEPTIN®?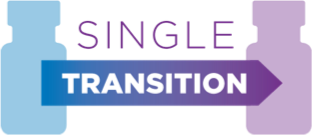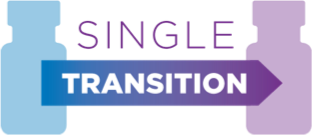 CAN I BE GIVEN KANJINTI® IF I'VE ALREADY STARTED WITH HERCEPTIN®?
KANJINTI® has been proven to be as effective as Herceptin® in a study. Some patients in this study started treatment with Herceptin®, then were transitioned to KANJINTI® for the rest of the study to make sure the side effects were similar compared with patients who only took KANJINTI® for the length of the study.5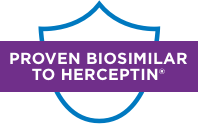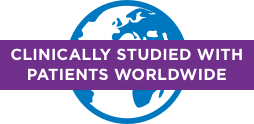 A few things to keep in mind as you start KANJINTI®
Now that you know more about HER2+ breast and gastric cancer and KANJINTI®, you may have some questions about starting this course of therapy.
KANJINTI® may be
prescribed alone
or with chemotherapy.1
Your doctor may choose to use KANJINTI® with or without chemotherapy. Your doctor or nurse will discuss which combination of treatments is right for you.
KANJINTI® is given
through an infusion.1
You will receive KANJINTI® either once a week or once every 3 weeks for as long as your doctor thinks it is working for you and as long as you are not having any serious side effects.1
The points above offer only an outline of what you might expect when starting KANJINTI®. Your doctor will make these treatment decisions with you. If your treatment plan is not clear, please talk with your treatment team.
---
REGULAR HEART MONITORING IS IMPORTANT1
Per standard treatment with KANJINTI®, and similar drugs like Herceptin®, you will receive regular heart function checkups. These checkups occur throughout the course of your treatment.1 Heart function will be tested with an ECHO or MUGA scan.1 An ECHO scan is an ultrasound image of the heart. A MUGA scan takes a moving picture of your heart pumping blood.6
BEFORE Starting KANJINTI®
every 3–4 MONTHS During & upon completion of KANJINTI® TReatment
every 6 MONTHS for at least 2 years after completing KANJINTI® therapy

ECHO = electrocardiogram; HER2 = human epidermal growth factor receptor 2; MUGA = multigated blood-pool imaging.
---
What to look out for
You should tell your doctor or nurse as soon as possible if you feel unwell or develop the following:1
Breathlessness and cough

Swelling in your ankles/legs or face

Feeling your heart flutter or an irregular heartbeat

Weight gain of more than 5 pounds in 24 hours

Dizziness or loss of consciousness

Be sure to review the Important Safety Information to learn more about potential side effects and symptoms you need to watch for to help your doctor know when you are having a side effect