Behind KANJINTI®
ANSWERING THE GROWING
NEED FOR BIOSIMILARS
At Amgen, we're committed to the development of biosimilars because of the additional treatment options they provide to patients and the positive impact they can have on the entire health care system.
HERITAGE
With KANJINTI®, Amgen continues our dedication to oncology treatment and care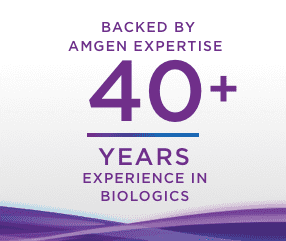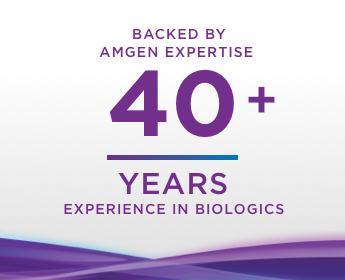 For four decades, Amgen has been at the forefront of biologic innovation with the discovery, development, and production of novel medicines and support services for patients with cancer.
EXPERTISE
Manufacturing quality biosimilars, like KANJINTI®, takes experience and expertise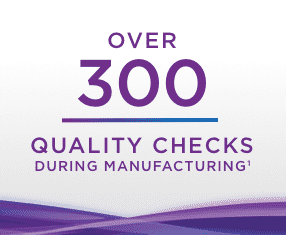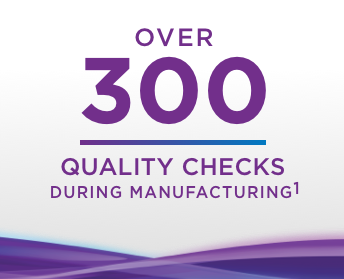 Amgen Biosimilars are developed to the same high standards as our innovative biologics.

Our rigorous processes are designed to ensure
batch-to-batch consistency, quality, safety, and compliance with FDA regulatory requirements.
A rigorous approach
to establishing biosimilarity2-4

The FDA requires a totality of evidence to establish similarity.2

Establishing molecular similarity is the foundation of demonstrating biosimilar totality of evidence.2
The goal of biosimilar trials is to confirm no clinically meaningful differences between the biosimilar and reference drug.2

How development goals differ

For more educational information on biosimilars, visit BioEngage.

---
Setting A RIGOROUS STANDARD for Biosimilar Manufacturing
Manufacturing biosimilars, like KANJINTI®, is a complex process that requires custom cell lines, new manufacturing processes—and considerable expertise.2,3

Amgen is well positioned to address these complexities, by setting rigorous quality standards for all of our products.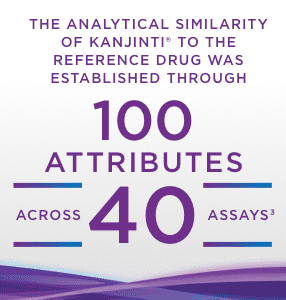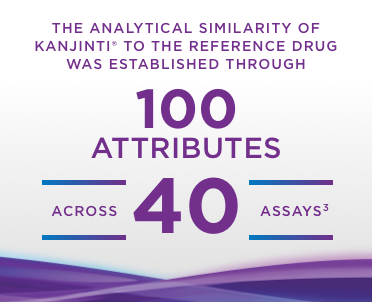 INcreasing complexity and development costs5

Da = Dalton, 1 atomic mass unit; mAb = monoclonal antibody.

For more educational information on biosimilars, visit BioEngage.
EXPERTISE To learn more about Amgen's expertise in biologics and biosimilars, visit AmgenBiosimilars.com.
Amgen Biosimilars
Commitment
Amgen has an unwavering commitment to deliver our
products, including KANJINTI®, to every patient, every time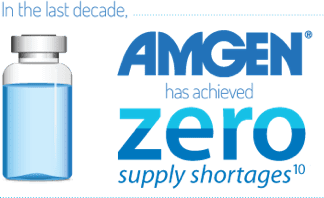 Our extensive manufacturing and distribution network helps ensure patients can get the medicines they need.

Every manufacturing facility strictly adheres to the same processes and quality-control measures.

We invest heavily in risk mitigation on all levels to ensure supply and product integrity.
Support
With both Amgen Assist 360™ and Amgen FIRST STEP™ programs available for our biosimilars, you'll see the same support you've come to expect from Amgen.
Learn how Amgen uses the same support programs
for KANJINTI® as we do for our innovative treatments.
support