FOR PATIENTS
Getting to know KANJINTI®
What is her2-positive (HER2+) cancer?
YOur doctor has said that you have a type of cancer that is her2+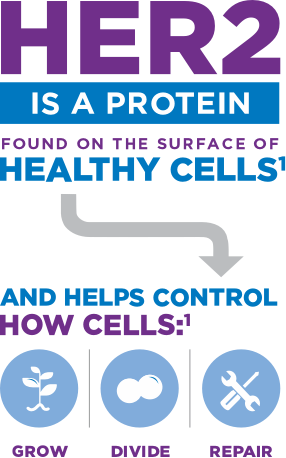 Some cells may have more HER2 than is normal. This causes the cells to divide and grow faster than usual. Some may become cancer cells and spread to other areas of the body.1
---
YOU MAY HEAR HER2 PROTEINS CALLED "HER2 RECEPTORS"1,2
They are called this because they send and get information from other proteins to do their job.
When these receptors talk with one another, they make cells divide and grow.3
NORMAL
~ 40,000
HER2 receptors4
OVEREXPRESSED
Up to ~ 1,000,000
HER2 receptors4
EXCESSIVE
Excessive cellular division.
This can lead to cells
growing
more and more4
It is important for PATIENTS who have breast OR GASTRIC cancer to be tested for "HER2 status"1,5
This tells your treatment team as soon as possible to use drugs that target the HER2 protein.
HER2 is usually found by testing a small sample of cells. The tests count the number of HER2 proteins and are done by a lab. If there are a large number of HER2 proteins, the cancer is said to be HER2+.5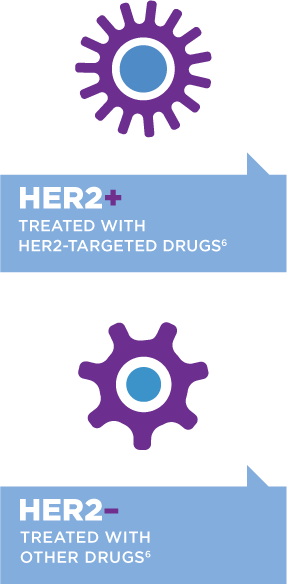 HER2 = human epidermal growth factor receptor 2.